Welcome to Lake Martin Machine Gun
Lake Martin Machine Gun (LMMG) is Alabama's premier outdoor machine gun experience and shooting range located near beautiful Lake Martin on 90 acres. LMMG offers a historical introduction of a variety of fully automatic machines guns to shoot and a safe clean atmosphere to bring your own firearms to shoot. Each shooter can experience the adrenaline rush of a fully automatic firearm in a safe and private environment under the direct supervision of trained professionals, or practice with their own firearms under the careful watch of our range safety officers.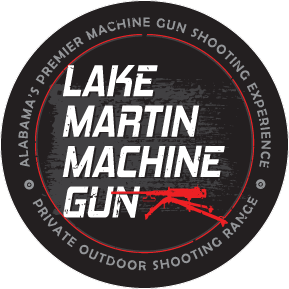 LMMG FEATURES
Pistol Range
Perfect for getting a feel of your new pistol in a safe environment.
Premier Shooting Experience
Come experience history with many historical firearms.
Event Hosting
The range is available for corporate events and large groups
Community
Our community is full of great people and great attractions. We are proud to be a part of it!
Excellent Facility
World class staff makes an excellent facility.
Beautiful Scenery
Located on 90 acres near beautiful Lake Martin.